Garden Edging
Garden edging is the perfect solution to give a finished look to your garden. It's practical, because it keeps mulch and soil in place, and it looks great, adding some visual context to your garden's design. Many types of edging, if laid flat and wide enough, are robust enough to stand up to lawn mowing, saving you the effort of trimming edges.
Galvanised and Redcor (Rust look) Garden Beds and Edging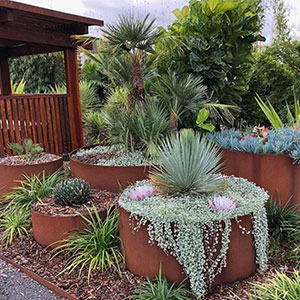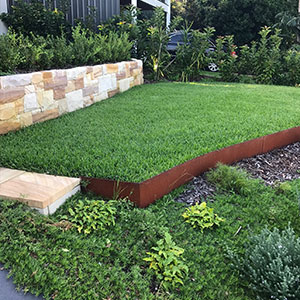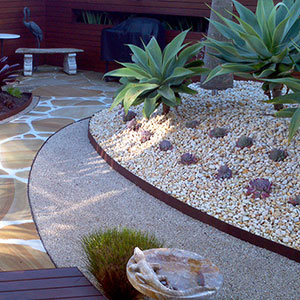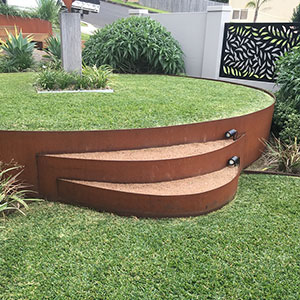 Australian made FormBoss steel garden edging is favoured by landscapers and tradies due to the speed and ease of installation however the simplicity of installation and wide range of applications also make it very DIY friendly.
Most shaping can be easily done on site and typical installations can be completed using a minimal set of tools. FormBoss® is perfect for updating existing gardens or laying out the frame work for a completely new garden.
Save yourself time and money whilst creating a garden that is easy to maintain and will add lasting property value.

Best uses for Formboss products: edging, raised garden beds, tree rings, retaining walls, architectural furniture and steps.
Discover our Formboss product range.
Read our FAQs for more information.
See how easy it is to install Formboss edging yourself.
Link Edge Aluminium Garden Edging

Link Edge is easy-to-install, flexible aluminium garden edging that gives a fantastic finish to any yard. Bend it, shape it, curve it, straighten it... the choice is yours. With Link Edge it's easy to create the look you want. Perfect to use around turf, trees, paths, mulch, soil, pebbles, paving, and more. The best part is, once it's installed, it won't rot, rust, crack or fade. Available in 100mm, 75mm and 50mm heights.
Now available in these colours. Call (02) 8543 3401 for more information or to order.
Additional Garden Edging Solutions
We also have a range of alternative solutions to edge your lawn and create structure and purpose to your garden:
Wood: our treated pine sleepers are quick to install and give a neat but informal look. Ideal for traditional, relaxed and native gardens
Decorative blocks: robust and attractive - choose your colour and effect to suit almost any kind of yard, with sharp-edged blocks adding an architectural look, and softer-edged blocks blending into a traditional garden
Bricks: long-lasting and cost-effective, brick is surprisingly versatile and can be laid in different patterns
Pavers: not just for paths, pavers make good edging, particularly where a broad separation is required between areas
Concrete: formed into lengths, corners and even tree surrounds, concrete is another long-lasting garden edging option
Aluminium garden edging: easy to use and gives a neat, crisp finish on curves and angles as well as straight lines
Delivery
With yards at Brookvale and Taren Point, our landscaping and building products can be delivered throughout greater Sydney including Sutherland Shire, Eastern Suburbs, Western Suburbs, Northern Beaches, and beyond. Loose products such as mulch, soil, sand and pebbles can be tipped or delivered in bulk bags.
Secure your delivery time as you check out.
Quantity discounts apply. Click on the product name for more details.